CERTIFICATIONS - ACCREDITATIONSBiohellenikas policy is to gain all the international certifications which are related to the quality for the services provided with the reagents in use and the laboratory equipment. Since the establishment of the company, all procedures are daily controlled and as a result the company succefully received the following certifications and accreditations:
ΑΑΒΒ (AΜΕRΙCAN ASSOCIATION OF BLOOD BANKS)
Biohellenika is accredited by the international recognised organisation AABB (American Association of Blood Banks) since 2010 and renews the accreditation every two years. The present certificate of accreditation is valid until Septeber 2018.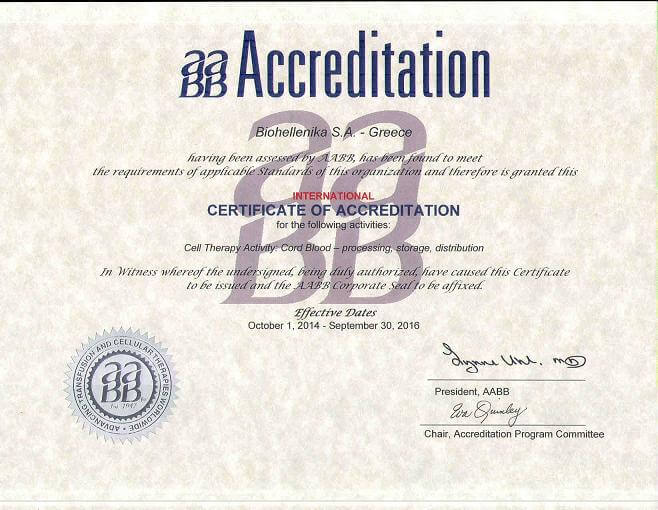 ESYD (National Accreditation System)
*Biohellenika's laboratories are accredited by ΙSO 15189:2007 with the certification No 410 8/2/2008 and TAK-EIE laboratories with the the certification No 618 2/10/2009by the Hellenic Accreditation System (HAS) as the legal representative according to Law N.3066/2002 for the quality controls, concerning the flow cytometry, microbiology and virology tests.
ISO BIOHELLENIKA
* Biohellenika is certified according to international prototype of quality ISO 9001:2008 for the processing, the qualitative controls and the cryo-preservation of autologous cell populations (autografts from umbilical cord blood and placenta blood, Wharton's jelly, dental pulp and adipose tissue) by the international certification representative Lloyds Register Quality Assurance.
* Also is certified according to ISO 13485:2003 for the assembly of storage systems that contain the autologous cells in cryovials integrally attached for future medical use by the Lloyds Register Quality Assurance.
All the procedures followed in Biohellenika's laboratories and storage facilities are in accordance with the European Community Guidelines 2006/17/EC and the Presidential Decree 26/2008.